Toon Blast
4547
Puzzle Game – Blast Cubes to Solve Puzzles
Are you good at puzzle-solving? Do you like creating explosions? If yes, then you will find this puzzle game to your liking. Toon Blast is a fun game in which you have to find cubes of the same color to solve entertaining puzzles with the help of powerful boosters. It provides you with interesting puzzles that seem easy to solve but take a lot of thinking to unravel. You need to find the same-colored cubes in this puzzle game. If you can find two cubes of the same color sitting side-by-side, you can click them and remove them from the board. If you find more same-colored cubes, you can get special items like rockets, bombs and disco balls which can be used for creating combos.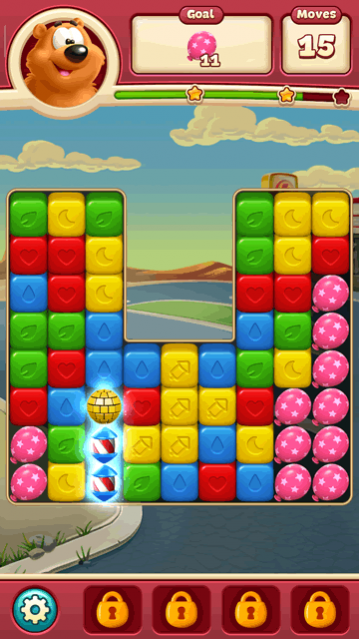 Toon Blast has riveting gameplay that gets enhanced by the colorful graphics. The explosions you get to create by combining special items are a visual delight. Moreover, the sound effects are great and help in keeping you in the blasting mood. The controls of this puzzle game are very easy to understand too. You just have to click the cubes that have the same color and are placed in a bunch. The cubes you click will disappear from the board and will be replaced by new cubes. You have to continue eliminating the cubes until you achieve the goal that has been set in front of you. Do remember that you only have a limited number of moves to complete the level. So, you have to make every move count.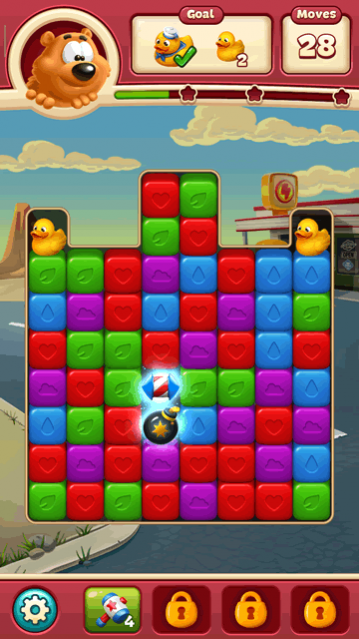 This puzzle game offers a variety of challenging levels to you. You have episodes of 20 levels each that you need to clear to move forward. Each level presents you with a different objective. Sometimes you just have to find a particular number of cubes of a single color. Other times, you need to eliminate the balloons or bring down the duckies that you see on the board. The objectives become tougher to achieve as you move to higher levels. Completing the levels can be made simpler by getting special items. You can get a rocket for finding 5 same-colored cubes. Similarly, you can find a bomb and a disco ball for finding 7 and 9 same-colored cubes respectively. These special items can be combined to create combos.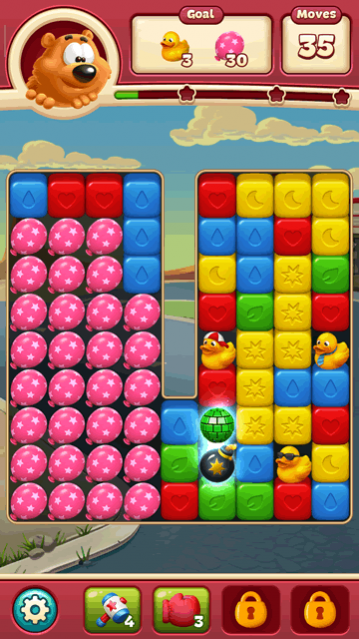 Toon Blast provides you boosters as well for completing the higher levels. These boosters can be used within a level by selecting them from the menu located at the base of the screen. However, before you get to use these boosters, you need to unlock them first. If you manage to complete a level with many moves remaining, you stand a chance to get a higher score. The higher the score you get, the more stars you can collect for a level. Collecting stars is crucial if you want to earn amazing rewards. To make this puzzle game even more fun to play, you can invite your friends by connecting the game with your Facebook account. You can also form or join teams and play this game collectively.
Features:
Lots of challenging levels to complete
Different objectives for each level
Find two or more same-colored cubes
Get rockets for finding 5 same-colored cubes
Find 7 same-colored cubes to get a bomb
Get a disco ball for finding 9 same-colored cubes
Create combos by combining special items
Various obstacles to overcome
Lots of powerful boosters available
A limited number of moves to complete levels
A limited number of lives available
Earn stars for getting higher scores
Collect stars to gain awesome rewards
Form teams and play collectively
Conclusion:
Toon Blast is a gaming app that is aimed towards people who love solving puzzles and making explosions. It provides them the chance to solve puzzles by finding two or more same-colored cubes on the board and creating combos to achieve a set objective. It is an excellent puzzle game and you should give it a try.
---
Add a review
Tell us your experience with
Toon Blast
4547
RELATED PROGRAMS
Our Recommendations
---
---
---
---